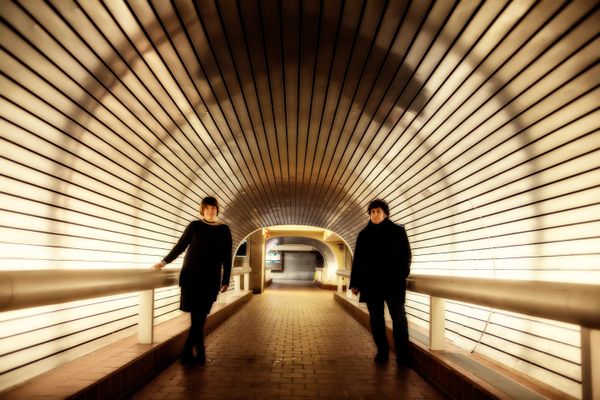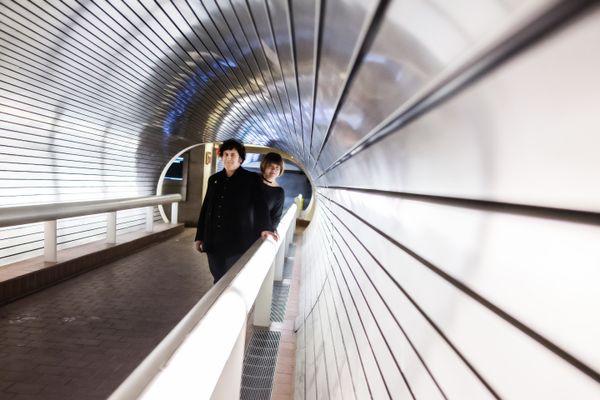 "Ten perfectly, meticulously crafted power pop (emphasis on "power") tracks that shimmer and shine. The sound of the album is top notch...The album explodes in the best possible way with "Do Over", which just kicks from the first raging chords, into a Raspberries/'70's sound storm which immediately goes clean pop, with a catchy chorus and tight harmonies; "Over The Top" is low-voltage, again, harmony-laden and hooky. I hear a lot of influences here:  some (as mentioned) Rasperries/Big Star/Posies/dB's/slight R.E.M. – and it works.  "Gravity" especially has a dB's (or Chris Stamey) type of feel; a sweet and lush piece with swirling guitars and melody that instantly draws you in – this should be on every radio. "Leftover Mistake" comes charging forward with fiery guitars and intensity, in that early '80's radio-friendly way and again, you can't help but tap a foot to this, with its upbeat tempo; "Options" is the country-pop piece, which is a perfect fit on this album – sweeping, yearning pedal steel runs, acoustic guitars and on-the-one and "Take It Back" sounds like an amalgam of Velvets/Big Star, circa "3rd" and R.E.M. when they slowed down – a twang-filled, gentle moment that satisfies on every level…And that's the key thing – it satisfies on every level. The entire album. Listen to this and tell me you're not instantly in love with it.  It's impossible to not be. HIGHLY RECOMMENDED" -Rob Ross, Popdose
"Ok, so Shellye Valauskas and her partner Dean Falcone may reside in CT but much of this album was recorded at Somerville's famed Q Division Studios. Said studio has a reputation as power pop haven, making it the perfect spot for Valauskas and Falcone to bring their songs to life.  History of Panic hearkens back to the finer moments of 1970's and 1980's power pop. The songs are filled with sparkling melodies powered by sharp and often jangly electric guitars. Harmonies, some contributed by the Posies Jon Auer, abound.  If you're looking for a summer soundtrack that is exuberant and infectious, you'll be hard pressed to find much better than History of Panic.                               -Mayer Danzig, Twangville
"It only took Shellye Valauskas and her Shellye Valauskas Experience a decade or so to finally put out History of Panic, the full-length follow-up to her 2008 EP, "Box It Up."  But guess what?  It's out and it's a fine, highly polished bit of pure pop music that features some pretty solid guest artists — including Jon Auer (of The Posies and Big Star) and drummer Dave Mattacks (Fairport Convention, XTC, Nick Drake and Paul McCartney). 
-Mark Zaretsky, The New Haven Register
"A reason why I was interested in working with Dean and Shellye is, for me it comes down to the song...it's got to be memorable, there's got to be hooks...it's got to be well constructed and crafted. That's why I ended up on as many songs as I did on Shellye & Dean's album. They are about the songs, first &  foremost... the song comes first."
-Jon Auer (The Posies, Big Star, Dynamo Royale)
"If there's such a thing as "classic" indie-rock, Connecticut's Shellye Valauskas Experience is making it. With jangling guitars, hooky melodies and a loose, electric energy, just about every track on the band's new album History of Panic sounds like it belongs on a college radio playlist circa 1985. It doesn't hurt that Jon Auer of the Posies and Big Star sings backing vocals on four tunes here, or that drummer Dave Mattacks (Fairport Convention, Nick Drake, XTC, etc.) plays drums on five, but they're basically value-added components on these 10 self-contained little gems that Valauskas and her main collaborator, guitarist and producer Dean Falcone, have crafted. Her pop instincts are at full mast on opener "Do Over," a bright and punchy song with a sing-along chorus, and on "Over the Top," which features trebly guitar from Falcone and layers of prismatic backing vocals. Album standout "Leftover Mistake" charges ahead on a blustery guitar riff and the hypnotic blend of Valauskas' and Auer's voices, while Valauskas sounds rueful on "Cheap Shot" over serrated guitar riffs. She shows a more subdued side on "Mandocello," singing quietly over glimmers of tremolo guitar. "Options" bobs gently on a low-key riff, and pedal steel guitar gives it just a hint of country that suits Valauskas' clear, tuneful voice as Auer chimes in on backing vocals...The Shellye Valauskas Experience is a shining example of the talent that exists closer to home, and if she takes her time between records, well, they're worth waiting for."    -Eric Danton, listen dammit
"On "Leftover Mistake," a full-out basher (whose lyrics supply the album's title), Valauskas is cool and collected, almost polite; "I wouldn't say you're perfect," she sings, "I wouldn't even call you kind / 'cause that would be a lie."  Add sheets of guitars and vocals, lock down near-perfect, anti-DIY production values, and shake vigorously.   
      -Michael Hamad, The Hartford Courant
"Gravity," off History of Panic — the new album from the New Haven-based Shellye Valauskas Experience — starts with a warm bass, a chiming guitar. "It feels a little like loss / and a lot like gravity," Valauskas sings, her voice clear and confident, though the meaning in the lyrics conveys something more ambiguous. "Weighs you down, pulls you under / and it makes it hard to see / where you are." Within a few bars, the music joins her, the tonal center shifting, then shifting again. It still has all the accessibility of a good pop song. But it speaks of years of musical experience......those years also allow time to think, and time to figure out how to do it right. The songs on the album hang together, yet each feels distinct; History of Panic is a cohesive whole, yet sonically varied enough to give the ear a fresh surprise with each song.
-Brian Slattery,  The New Haven Independent